While growing up on the range in the late 70's and early 80's, nearly all of our drinking water came straight from creeks, most of which had a healthy beaver population, and all of which was in livestock grazing areas. Rarely did we carry water bottles. We'd just lie on our stomachs and drink like animals. Typically, we'd do this upstream of where our sheep had crossed or drank from earlier in the day...not due to fears of getting sick but so the water wouldn't taste like a funky cross between lanolin and shit. We did then what we are repeatedly told not to do now... and we did it daily for months at a time. Not only did we never get sick, it was not even discussed as a possibility.
While these practices are generally considered foolhardy today, they were the norm for many ranchers and outdoorsmen of that era. Of course, it wasn't much before those times that no one treated their water. However, the infamous parasitic Protozoan by the name of Giardia is said to be more prevalent these days...though how much seems debatable. There are a good number of accounts from people who drink untreated backcountry surface water in the western US and BC without issues. I personally know a half dozen. One, who has practiced this rather indiscriminately for thirty years, has had Giardia twice. The others have not. In recent years, I have become more lax on the use of filtering I took up in the early 90's, and resumed drinking untreated water. Testing in 2014 has shown no Giardia in my system...though I'm quite selective as to where I drink (not downstream of human settlements, grazing areas, etc). While one's immune system may affect the outcome, it has been proven through water sampling that Giardia is not as widespread as the water treatment manufacturers would like consumers to believe…at least in the Sierra Nevadas. Check out these two articles here and here. Considering that, and from personal experience and that of the others I mentioned, I suspect Giardia isn't an issue in similarly remote areas either.
That said, I am not recommending you test these suspicions and drink untreated water. Depending on the location, there may be other contaminants in the water besides Giardia. These might include bacteria, viruses and believe it or not, chemicals. For those reasons, I recommend that you treat your water. How though is up to you based on the level of protection you believe is needed. Below is an overview of the most popular methods used by lightweight travelers.
Bottle filters
The bottle filter was one of the most clever inventions to come out of the outdoor industry. It is simply a water bottle with a replaceable filter cartridge under the lid. To use, take off the lid/filter, dip the bottle in the river, replace the lid/filter and squeeze/suck for potable water (you'll frustrate/tire quickly if you don't squeeze while sucking). You can even do this while in the boat. Staying hydrated has never been easier!
Note the duct tape on this bottle filter. I carry it in several places including on person wrapped around a lighter.
No pumping, no extra water bottles to carry, simple, always available, and only slightly heavier than a conventional water bottle. The two drawbacks is that they clog rather quickly in silty water and require some effort, albeit little. For those who don't mind a little squeezing, and will be filtering clear water only, these bottles are tops for all-out convenience!
Most bottle filters only take care of Protozoans and bacterias. If you're worried about viruses and like the bottle filter concept, make sure to get a purifying bottle filter (Katadyn makes the most popular). Just keep in mind that purifying bottle filters use iodine and will leave your water tasting as such (their carbon filters only reduce the taste). Some can tolerate this while others can not stomach it. If you want to purify without imparting a nasty taste to the water, you'll have to boil, filter with the First Need or MSR Gaurdian (see below), or use the Steripen. More on those methods below.
Also, though some bottle filters may look identical to others, not all are equal in the taste department. After using several, and before I began using different methods of filtering, I came to prefer the Aquamira...though I did notice some taste inconsistencies in their filter cartridges too. Changes in manufacturing, materials, and suppliers can alter the tastes to any filter at any time so you may have to experiment with different brands if your taste buds are picky. However, to my persnickety tongue, water never tastes "good" coming from a plastic container. That said, these bottles may also leach BPA or other undesireable chemicals into your water. More on that towards the bottom of this page.
Pump filters & purifiers
Filtering and purifying with hand held pump units are the most common methods of water treatment. The two types should not be confused though. While pump filters (typically called microfilters) and purifiers both have filter cartridges and are used the same way, they do not provide equal amounts of protection. A "filter" filters out sediment, protozoa and bacteria while the "purifier" does that plus destroys viruses.
Today, there are only two true pump purifiers: The older First Need by General Ecology and newer MSR Gaurdian. With these two, what comes out after pumping is filtered water that is unadultrated and purified. No chemicals. The First Need is neither light nor compact. The innovative MSR Gaurdian is heavier yet and, at $350, expensive!
The MSR "Sweetwater Purifier System" is simply a Sweetwater Mircofilter with a chlorine-based solution you must physically add. One can use any other filter in the same way. Though burdensome, another way to get both filtered and purified water is to use a regular filter then purify the filtered water with a Steripen.
Filter or purifier, the one you choose depends on the level of protection you believe is needed. Most backcountry travelers in the western US and British Columbia use a filter with no additional viral protection (Katadyn & MSR make a variety of pump fitlers). However, traveling to different parts of the country or abroad may present additional risks. You make the call.
Chemicals in backcountry water? How could that be? Believe it or not, there are several ways chemicals can end up in the backcountry water you are cooking with & drinking. One route is via air masses as noted below in No single raindrop believes it is to blame for the flood. Other avenues are herbicides used to kill poisonous plants in campsites, various chemicals from upstream development & ranching, fire retardants used in wildfires, & remote marijuana growing operations.
It should also be noted that some manufacturers claim their filters (including some bottle filters) or purifiers "reduce" "some" chemicals. Considering the options, or lack of, this may offer a small piece of mind when paddling where chemicals might be in the water. Yes, one is probably far more likely to get struck by lightning than have any sort of acute reaction from ingesting chemicals in the backcountry. However, there are other and far more complex issues associated with low dose chemical exposures that are beyond the scope of this page. For further reading, click here.
Tips:

Always search for the cleanest looking and slowest moving water you can find. The faster the water is moving, the more particles there will be suspended and the more you'll unnecessarily put in your filter or purifier's filter cartridge.
Use a prefilter in muddy or silty water. They can be backflushed in the field and will keep your main filter cleaner longer.
It's a good idea to let muddy or silty water settle several hours or overnight before filtering/purifying. Instead of carrying a special bucket for this, you can fill the stern of an empty kayak and stand it upright against a rock, tree, or steep bank. Do this as soon as you get to camp so you can filter later that evening and again the next morning.
My top two choices for water treatment:
Katadyn Pocket filter for silty/turbid water & Sawyer Mini filter for clear water. (both shown below)
| | |
| --- | --- |
| Simple & proven design capable of filtering the most turbid water. Stainless steel & aluminum construction. An easy & quick to clean ceramic cartridge that can filter up to 13,000 gallons of water. Lifetime guarantee. Meet the Swiss made Katadyn Pocket filter, the most robust & reliable backcountry filter money can buy! Comparatively heavy & costly yes, but after yrs of trying nearly every filter on the market, this is the only one I have come to fully trust in silty water. One does need to be careful not to drop the ceramic cartridge while cleaning though. | |
| | |
| --- | --- |
| | The Sawyer Mini is my filter of choice for clear mountain water. It is the simplest, lightest, & most versatile filter available. Put water in the bag, screw on filter, & squeeze water into your bottle...or mouth. Or, as shown in the pic to the left, hang it from something (or lean), and let gravity do the work for you! It'll fill a 27 oz bottle in ~5 minutes this way...& the vulnerable bag will last many times longer than if squeezing. It can also be used like a straw, eliminating the need for a water bottle and/or bag altogether. UPDATE: The Katadyn BeFree is the new kid on the block and preferred by most over the Sawyer Mini. I have yet to try one. |
| | |
| --- | --- |
| The Sawyer Mini without the bag. $25, no BPA, 2oz, back-flushable, & a claimed 100,000 gallon lifespan. | |
If the Katadyn Pocket filter did not exist, I'd give the MSR Sweetwater filter another look. I used them for years in both turbid and clear water conditions. They performed decently but, like other all plastic constructed filters, they are not overly robust. The pump shaft broke on one of mine, and not realizing it until I had drank 1+ pints of water rife with cow waste, the cartridge failed on another. The other filters I have tried either cloged too quickly in turbid water or, for my liking, had too many small parts that could easily be lost while cleaning in the backcountry.
Now, if I was filtering clear water only, and the Sawyer Mini filter was not available, I would opt for the slightly larger version: The Sawyer Squeeze. For a pump filter, the Katadyn Hiker is decent. It's simple and performs quite admirably. I would not recommend the "Pro" version though. While the quick connect fittings are nifty, the one on the base is very prone to breaking. I have seen one break rendering the filter next to useless. I have also found their "removable filter protector" to offer no advantage. Regardless, one should also keep in mind that even the lightest pump filter is ~6 times heavier than a Sawyer Mini.
| | |
| --- | --- |
| | A filter cartridge cut in half. Note the crack running the length of the white part. By the time I realized the filter was not filtering, I had already drank 20 oz of water obtained from a feces ridden cow trail leading into a turbid creek...the only place I could find. This was the moment of the realization that carbon (black stuff to right) really does remove undesirable flavors. The water tasted great! |
Boiling
While boiling is recognized as being a surefire method of dealing with protozoa, bacteria and viruses, it has several shortcomings. Boiling will not remove chemicals; the water will taste flat (a pinch of salt will help); it's time consuming; it takes a lot of fuel; no sediments are removed; and lastly, unless you like your water hot, you'll have to wait until it cools. Even then, the water will only reach the ambient air temperature.
However, other than chemicals that could potentially be in the water, none of these weaknesses are a problem when cooking a meal that requires boiled water. In these regards, boiling is actually the preferred route as you'll get food in you mouth quicker and be saving your filter or purifier's filter cartridge along the way. The boiling treats the water so no need to filter or purify. Just dip your pan in the creek/river, boil and eat!
According to the CDC, one should bring the water to a rolling boil for 1 minute at altitudes under 6,500' and 3 minutes above.
Chemically treating
There are quite a few chemical treatments on the market and they all share the same trait that makes them so desirable to some: Lightness. When in tablet form, enough for the typical self-support trip would weigh no more than a stick of gum. Additionally, there's little cash outlay for the occasional user and there's nothing to break. That's where the advantages end though. These chemicals don't remove other chemicals or sediments nor do they provide instantaneous treatment. Best case scenario is about 30 minutes, and to effectively treat some microbes in cold water, the wait can be up to four hours!
Furthermore, though it may surprise many, two of the most commonly known chemicals, iodine and chlorine, have limited effectiveness (in recommended doses) on Giardia, Cryptosporidium and other coccidian parasites, the very contaminates most likely to be in surface water. Iodine's lack of effectiveness on Protozoans is well covered in Military Medicine and the department of SWES at the University of Arizona goes as far as recommending a different form of treatment altogether. If that wasn't enough, chemicals impart unpleasant tastes more often than not. Water treated with iodine makes me nauseous. And, some of the byproducts left over from the disinfection process are suspected to be, or are known to be, unhealthy. Little is even known about some of these byproducts as they have not been adequately researched.
A tag from a packet of popular chemical water treatment tablets. Not exactly what I'd call a turn on...(click to enlarge)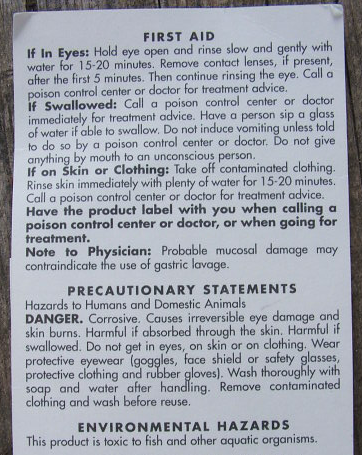 Considering all the downsides to treating water with chemicals, there will always be a few who simply can not resist the obvious diminutiveness and weight savings these treatments provide. For those, Chlorine Dioxide might be the answer. Chlorine Dioxide doesn't treat any faster than iodine but it does take care of the microbes iodine doesn't and the taste is not as unpleasant...though I find it remindful of some city tap water. If ones taste buds have never been exposed to pure spring or well water, they may not notice the difference. If one relishes the taste of unadulterated water straight from the earth, I'd suggest another route of treatment.
If Chlorine Dioxide is for you, it is available in convenient tablet form from Aquamira, Katadyn and Potable Aqua.
One more chemical treatment method is the MSR MIOX Purifier Pen. It's about the size of a jumbo cigar and works by creating brine out of untreated water and salt, then passing a small electrical charge through the solution creating a dose of mixed oxidants. Basically, you add water, shake, select the correct button, pour solution into bottle of untreated water, check the "safety indicator strip" and wait. Besides all the steps and the fact it is a battery driven electronic device, the wait time is about the same as iodine and I have read a number of reports saying the treated water tastes like swimming pool water. If one was planning to treat a lot of water over long periods, and was set on using chemicals, the MIOX pen might be a cost effective way. Otherwise, it seems like an overly complicated way of achieving the same as simply dropping a Chlorine Dioxide tablet in the water.
Steripen ultraviolet (UV) light purifier
The Steripen handheld ultraviolet light purifier is an intriguing method of water treatment. Compared to the conventional pump purifier, the Steripen units require no setup or cleaning and are considerably lighter and more compact. And while not as light as chemical tablets, the Steripen does in 90 seconds what can take chemicals up to 4 hours to accomplish and without affecting the taste. No chemicals needed and Steripen claims eradication of protozoa, bacteria and viruses. Its UV light purifies by destroying the DNA of these microbes which prevents them form reproducing. Operation is simple. Basically, you take the lamp cover off, turn it on, stick it in your bottle of water and stir until the light turns off. Though this technology is relatively new to the backcountry scene, it has been used for years in research labs, hospitals, bottling plants, and municipalities.
| | |
| --- | --- |
| | The 3.6 ounce Steripen Adventurer purifies 12 gallons at 90 seconds/quart on a single set of disposable batteries or 9 gallons with rechargeables. |
Now for its pitfalls. The Steripen is controlled by an onboard computer which means batteries and other complexities that are more prone to failure than simpler technologies. Though the latest iterations are reportedly more reliable, there are still reports of troubles in the field. Also, once its cover is off, the lamp could be vulnerable too. While made from strong optical grade quartz, it would be wise to not drop it. Lastly, the Steripen doesn't remove sediment or chemicals, and the murkier the water is, the less effective it becomes. All that said, the Steripen may be a good choice for vigilant people who are wanting a light, fast, compact, and fairly convenient way of purifying relatively clear water without the use of chemicals.
Bisphenol A (BPA) leaching into food and beverages
Bisphenol-A (BPA) is an endocrine disrupting chemical used in plastic products, including some kinds of water bottles, baby bottles, and food storage and heating containers. It is also used in the lining of metal food cans, in certain plastics used in children's toys, reciepts, and other things.
Though BPA didn't reach mainstream media headlines to any great extent before 2008, it was first understood to be toxic in the late 30's. By accident, it was discovered to leach into liquids from polycarbonate in 1987. Then again, by accident, it was discovered to mimic estrogen in 1993. By 1997, BPA had been linked to multiple health issues and the intervening years saw a development of science that established a new paradigm for our understanding of chemical toxicity. This has prompted a number of countries and states to limit the use of BPA. To date, several countries around the world have banned its use in baby bottles along with at least 11 states in the US. And various legislation limiting or outright banning its use is pending in a number of other states and around the globe. Within the manufacturing world, Nalgene, one of the most recognized names in the outdoor industry, voluntarily chose to phase out their production line of polycarbonate containers containing BPA, starting a trend among competitors who are offering BPA free bottles. Walmart, CVS and Toys 'R Us also announced plans to discontinue baby bottles containing BPA. Other companies are following suit.
| | |
| --- | --- |
| | 27 oz food-grade stainless steel Klean Kanteen after more than 5 yrs of near daily use. Classy, durable, & no chance for chemical leaching or imparted flavors with any beverage, warm or cold. Shown here with optional staninless steel lid. |
Despite that and scientific studies implicating BPA in a range of human health problems that are on the rise, as a whole, policymakers in the US have either been slow to act or have done little to limit its usage. This is due largely to a regulatory process that has essentially been unchanged since 1976. It puts the costly and time-consuming burden of proof on the EPA rather than chemical companies and our administrators have not provided the EPA with sufficient resources and staffing to thoroughly address these issues. To quote the US Government Accountability Office, "Little is known about the risks posed by many of the chemicals to which millions of consumers and workers are exposed. Although the amount of exposure to a chemical can vary greatly depending on its use, the EPA's information on chemical use is often scarce, incomplete, or outdated".
Minimizing exposure to BPA. In terms of kayaking, this is easy to do by avoiding the use of any plastic with the recycling code #7 or the letters "PC". Plastics marked with the recycling code #1, 2, 4 or 5 do not contain BPA. However, this does not mean they will not leach other chemicals. BPA flew under the radar for years. No one knows what may be discoverd next which brings me to this: In the last few years, a big marketing tool has been labeling that boldly states "BPA Free". We do not know if the replacements are any safer. In time, they could prove to be just as bad or worse.

Your safest bet is to avoid plastic altogether when it comes to beverages and liquidity food. Although most chemicals in the culinary field are considered "safe", that's generally not because they've been proven safe. They just haven't been proven to be unsafe. It must also be remembered that hot foods and beverages increase leaching. For this reason, I have stopped preparing my freezedried meals in their pouches. Instead, I pour the contents in to the pan of boiling water, cover and let sit. Same concept and same results but with a pan that must be washed. While not as as convenient, convenience and health generally do not go hand in hand.

Additionally, besides eliminating BPA in water bottles, it would also be wise to use metal utensils, pots (with no anti stick coatings) and bowls made from food-grade materials and without linings. KISS. Keep it super simple.

| | |
| --- | --- |
| | Making tea in the Klean Kanteen (non-painted versions only). Heat water on stove; drop in tea bag; drink; refill bottle; insert in boat; paddle to next camp. Unless you like big bangs & flying shrapnel, do not even think about screwing the lid to the bottle while it's on the stove! |

For further reading on BPA, visit the EWG website and type "BPA" into its search function. Additional BPA info can be found on Our Stolen Future's website. For information on the U.S. chemical regulatory process, visit the U.S. GAO website and search "TSCA" (Toxic Substance Control Act).
No single raindrop believes it is to blame for the flood. Some of the most toxic chemicals known to man are carried on air masses and deposited in places we assume to be the most pristine. Just a few examples would be the well-documented *struggle the Inuit peoples of the Arctic are having with dioxins; the agricultural chemicals and other compounds found at high elevations in many North American national parks and here; and very high levels of mercury in the waters of southern Idaho near some of the most remote self-support runs in the Lower 48. It is unknown how these chemicals may or may not affect the backcountry traveler. That isn't the point though. The point is this: Never assume you're in a ecosystem unaffected by mans actions. Also, as harsh as it is, remember that we contribute to this issue each time we support the PVC industry, eat non-organically grown food, and turn the light on.
*Watch a video trailer of "Invisible", a documentary of Inuit mothers whose bodies are contaminated with chemicals. Click here for a lengthier version.
Just in, Feb 26, 2008: National Park Service overview and announcement of the Western Airborne Contaminants Assessment Project. Click here.
General tips
If using anything but a bottle filter, consider taking the largest water bottle you can realistically take. Otherwise, you'll have to take the time to dig your system out of the kayak and treat water in between camps to stay hydrated throughout the day.
For a convenient camp measuring cup, graduations can be applied to your bottle with a permanent marker.
If you are launching anywhere below human development, whether it's a farm, single cabin, small village or ranch, assume the possibility the water is contaminated with undesirables, including chemicals. While some methods may disinfect the water fine, your safest bet is to treat water from small side streams/springs.
Always test your water filter, or purifier, for function and/or potability before your trip. It's not uncommon for bacteria to cause some charcoal filter cartridges to go foul after a certain amount of time/use and some filters, such as the Sawyer Squeeze, may require a pre-soaking to restore flows after lying idle for a period of time. I have been stuck without a functioning filter twice due to not testing prior to the trip.
For more in depth reading on water treatment options, check out this excellent page on the Zen Backpacking site.