My self-support kit, which I also use for backpacking, gets tweaked after each trip, and has seen a near complete overhaul every other year since 1992. Things don't always work as hoped or needed, and gear wears out or breaks beyond repair. During this time, I am continually making and modifying gear, or as my friends have come to call it, "rustifying". I do this to save money and make my gear lighter and function better, or more reliable. Above all, I do it for the joy of working with my hands and challenging my mind to finding better solutions for my particular needs.
If you've been following the theme around here, you already know I'm an advocate of doing for one's self. You may have also guessed that I'm not going to suggest buying a butt load of stuff. However, self-support does require a certain amount of equipment. The best we can do --other than make our own, which isn't a realistic option for some-- is stick to the fundamentals. Not only is this the easiest way to minimize our footprint, it's an easy way to save weight, bulk, and money. Notice how simple my kit is in the photo below. Except for a small first-aid kit and water bottle, what you see is all that I carry in my boat (rescue items carried in my PFD and on my person). There is no superfluous doohickery. Just the things needed for physical comfort.
It is my hope these pages will inspire others to simplify... inspire creativeness and expression through personal craftsmanship and smart consuming. Assemble for yourself a simple kit, buying what you need, then improvise as needed, if needed... and make and "rustify" when you can. Once immersed, you'll see an element of beauty in the simplicity itself. Cross this philosophy over into everyday life.
Generic Checklist
Use as a checklist and/or general orientation. Feel free to print.
personal

community

sleeping bag
sil-nylon tarp...if rain is forecasted
sleeping pad
break down paddle
shelter
stove & fuel...if no individual stove
stove & fuel ...if no community stove
water filter...if no individual filters
pot & lid
first aid kit
lighter
additional rescue gear
spork
map, if in unfamiliar territory
water bottle
compatible personalities‹‹‹‹
water filter... if no community water filter
toiletry kit: floss, toothbrush, toilet paper
mini headlamp or light
shorts
jacket & pants if weather dictates
rain poncho
waterproof socks
main drybags
small drybag for lunch, toilet paper, etc
safety/rescue gear
food
respectful attention‹‹‹‹
My Personal Kit
After 27 years of tweaks and good times, the kit below is my most recent for the typical 3-day, 2-night spring desert trip, where every condition can be encountered. It contains everything I need to be self-sufficient. For what it is, it's extremely light, yet superior to all my earlier kits. The sleeping bag and down clothes, combined with the fleece I wear under my drysuit, will take me comfortably down to around 10°F at night. The down clothes are ultra compressible, light, and warm. The poncho keeps me dry yet also serves as a floor for a tent that weighs one-third that of popular bivy sacks. Lastly, I find the Neoair sleeping pad legitimately comfortable and, although heavy, the Katadyn Pocket filter is unquestionably the simplest, most robust, and reliable pump filter available.
I base every trip around this list and adjust according to weather, time of year, length, difficulty, and location. See the "Summer" and "Overnight Summer" notes attached to the end of this list for examples.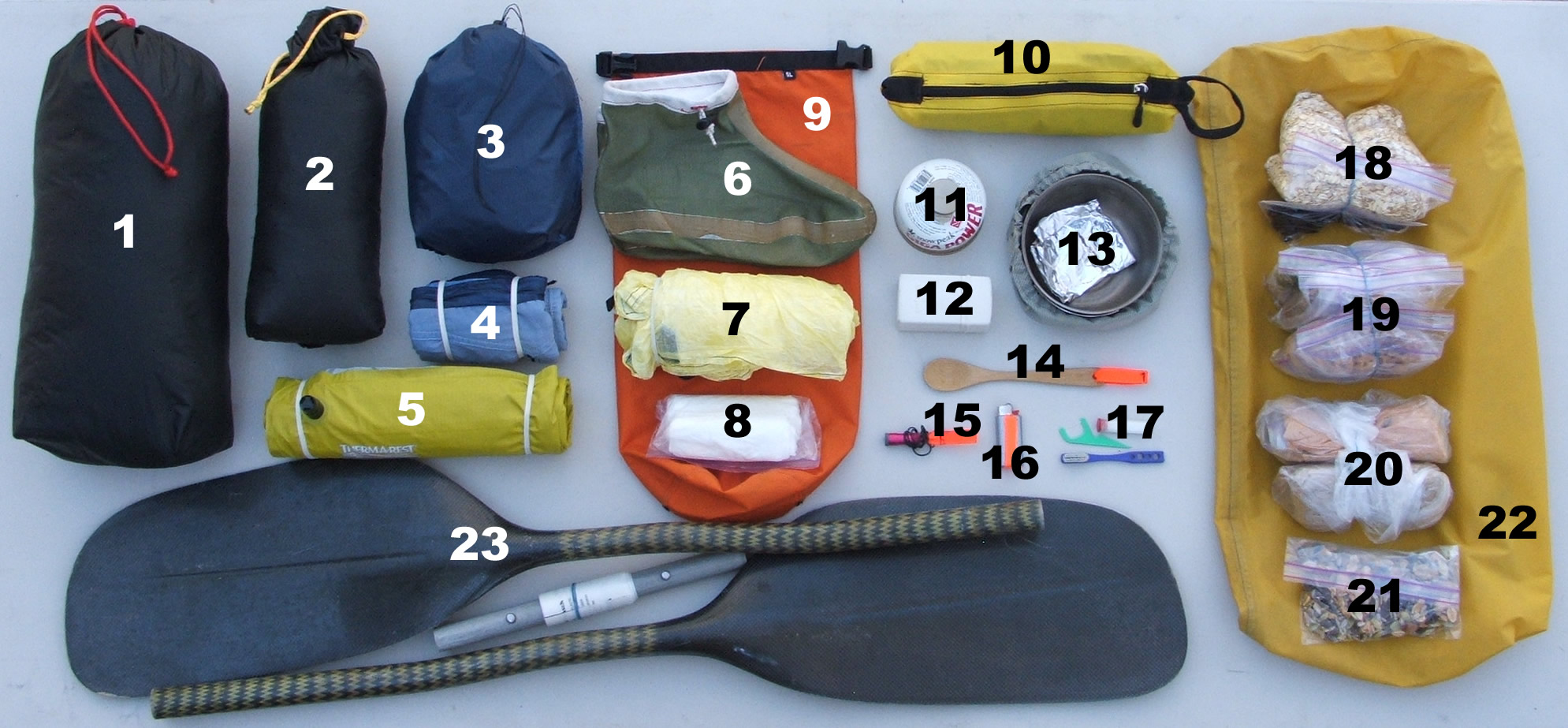 what

description

weight

1

sleeping bag

Custom 74" Feathered Friends Vireo in homemade sil-nylon sack doubling as pillow case
20.5 oz

2

clothing
Western Mountaineering Flash down pants & Montbell Ex Lite down Anorak in homemade sil-nylon sack (usually go w/o sack & stuff loose in main drybags #22)
14.75 oz

3

shelter
modified Zpacks Hexamid tent with titanium stakes in homemade sil-nylon sack doubling as night-time hang sack for food.
9.5 oz

4

shorts
modified thriftstore generic nylon
5 oz

5

sleeping pad

72" long Thermarest Neoair
12.25 oz

6

gore-tex socks
modified German military
2 oz

7

poncho
homemade cuben fiber, doubling as groundcloth
3.5 oz

8

toilet paper
soft
2 oz

9

drybag
modified Cascade Design, Seal Line Cirrus Sack, 5L

10

waterfilter
Katadyn Pocket in homemade padded zippered pouch
22 oz

11

stove fuel
Snow Peak GP110
7 oz

12

stove
Snow Peak Giga Power titanium, early model
2.5 oz

13

pot & lid
Snow Peak titanium pot & foil lid in homemade sack (replaced with Vargo BOT)
2.25 oz

14

spoon
modified Island Bamboo spoon
.25 oz

15

headlamp
homemade: keychain light w/ bungee cord head band
.5 oz

16

lighter
Mini Bic w/ duct tape wrapped around
.5 oz

17

toiletry kit
flosser, modified toothbrush, & vial of baking soda
.5 oz

18

2 breakfasts
See "sample meals" here
6 oz

19

3 lunches
18 oz

20

2 dinners
21 oz

21

emergency food
4 oz

22

primary dry bags
two prototypes
20 oz

23

breakdown paddle
modified custom 3-piece ATX w/ Tear Air stored around ferrell

Total Weight

Not included in this weight are items that are always in my boat or on my person, self-support or not. In other words, I'm always carrying that stuff anyway so don't consider it extra "self-support" weight. These things include the AT breakdown paddle, first aid kit, Seal Line Cirrus drybag, safety/rescue gear, and water bottle.

10lbs 14oz

Save weight by sharing some of the gear with your comrades. Click here for info.
Summer,

Lower 48

:

Same as above but with

Sawyer Mini filter

(when water is cleaner) instead of Katadyn Pocket filter; lighter

Linelite sleeping bag

; no down clothing; no GoreTex socks; homemade sun hat for camp and hiking; and plastic groundcloth instead of cuben poncho if no rain is predicted.

Total Weight

8lbs 7 oz

Add ~1 lb per additional day out for food. For example: 5-day summer trip puts the total weight at just under 10.5 lbs. Not to shabby.......
Overnight Summer, Lower 48: Same as "Summer" version above but food for 2 days rather than 3, and homemade Supercat alcohol stove instead of Snow Peak Giga Power.

Total Weight

7 lbs
To add context to these 7 to ~11 pound weights here, consider that it is quite common to see self-supporters carrying 25, 30, or more pounds. That's about what I carried on my first backpacking trip in the late 70's, and subsequent first few self-support trips. The contents of my ~11 pound kit today provide me a lot more comfort than those earlier loads though, thanks to better gear and my embracing simplicity. More importantly, I feel a lot safer on the water carrying one-third the weight. While weight may not matter that much on a casual trip down a straightforward river, I can tell you unequivocally, that paddling a kayak with that much extra weight in technical water, where you want your boat to maneuver quickly and easily, makes a difference. A big difference.
Factor in portaging too. From scrapes to broken bones and everything in between, this is when most kayaking injuries occur. Shouldering an empty 45 to 55 pound boat on slippery rocks, precarious ledges, and up and down steep banks can be tough enough. Adding 10 more pounds is one thing but 25 to 30+ guarantees extra sweat... and the odds of a mishap to increase exponentially. Be strong enough to carry 85 pounds but wise enough to carry less than 60. While your friends are lugging around 85 pounds, you'll be skipping along like you're carrying nothing.
In summary, to make portaging easier and safer, and have a high-performing boat on the water while still living high on the hog at camp, remember the following:
keep it simple, taking only what you need & avoiding gadgets
with few exceptions, seek out smaller companies & cottage gear makers for the lightest & most innovative camping equipment
pay close attention to pre-trip food prep
Get out there. Have fun. Be safe!