Carefully planned meals are a crucial piece to the self-support comfort puzzle and hide many often overlooked dividends. When you have a light and compact food load that still meets your physiological and psychological needs, you will get far more out of your trip not only in the sense of physical ease, comfort and morale, but in your sense of awareness as well. Any time your awareness is heightened, you minimize the chance of a mishap and if something does go awry, your ability to effectively react will be far better. Being more connected with your surroundings also gives you the added benefit of seeing many of nature's nuances that might otherwise be missed. This will greatly enrich your experience in its entirety. As Pliny the Elder said, "to be fully alive is to be fully awake". Fuel your body and mind with good food.

While having light yet tasty, nourishing and filling food may seem like an insurmountable task, it is very doable with extra attention in the planning stages. Basically speaking, there are three ways of going about this: Freeze-dried backpacking type foods; food you prepare yourself from foodstuffs purchased at the super market; or, a combination of the two. For the pure enjoyment of it, I prefer to concoct all my own food from scratch with super market foodstuffs. When pushed for time, I'll purchase freeze dried or deydrated "backpacking" dinners and assemble the rest (click on "recipes" below for a sampling of various meals). Regardless of method, below are tips to help you get the most from your self-support food.


° recipes

While my motivations for choosing organic are numerous, the most fundamental reason is personal health. There are innumerable concerns with ingesting chemical residues found on conventionally grown food long term, and studies suggest organically grown food is more nutritious (more here). On another level, organic farming does not pollute the air and water with chemicals. There are also numerous ecological concerns with conventional farming as well as the loss of critical topsoil.

Did you know that agricultural chemicals are the greatest source of water contamination in the U.S. and pollute up to 97% of streams and 60% of wells? Read more here.

What about the price$? Organically grown food is more wide spread than ever. As a result, the price gap has shrunk between it and conventionally grown food. At times, organic is even equal in price or less. Still, as a rule, organic is more expensive. To squeeze the most from your dollar, shop around for sales and the best deals. Specialty shops are typically the most expensive while outlet stores the least. Food co-ops and/or farmers markets are usually the most consistent and logical sources.

Be leery of labeling & the unscrupulous seller.
As unfortunate as it is, just because something is labeled "organic" at a farmers market doesn't mean that it is organic. Your best bet is always to grow your own. The next best option is to purchase from trusted sources. When that isn't possible, purchase items that have been "certified" to be organic. Even though the current certifications have loopholes, tests have shown "certified" products to be consistently lower in chemical residue than conventionally grown foods (see below). The farming practices are usually more ecologically sound with the "certified" organic products as well. Remember. Our long term health is dependent on a healthy environment.

Some believe the term "organic" is nothing more than a sales gimmick. Test data from the following three U.S. sources have shown organically grown food to be lower in chemical residue than conventionally grown food:
The Pesticide Data Program of the U.S. Department of Agriculture
Marketplace Surveillance Program of the California Department of Pesticide Regulation
private tests conducted by Consumers Union.
For more info, click here.
If you grow a lawn, consider converting part of it in to a garden. It's fun; you get to have total control; it saves money; and gives a sense of independence and health. There may also soon come a day when growing your own will again become more of a necessity rather than an option.
Freeze dried foods
The advantages to these foods is that they are so simple and convenient. Depending on the type of food, you either eat as is or just boil water, pour it in the pouch*, stir, let sit and eat. Other than washing your spoon, there are no dishes to do. You can buy single foods such as corn, peas, peaches, etc., or whole entrees such as pasta primavera and turkey tetrazzini. There is even freeze dried ice cream for dessert. Yes, ice cream! That aside, and some may even like it, many of these foods taste surprisingly good too. The downside of this food is the cost, especially considering the scant serving sizes.
A similar option would be the instant "certified organic" foods by Mary Janes Farm based out of Moscow, Idaho. Most of her ingredients are dehydrated as opposed to freeze dried but, they are just as light, and like their counterparts, these foods can be prepared and eaten straight from the package. In some instances, Mary Janes' portions may be slightly larger than some of the others. The ingredients are simple, natural, and few but the combination used creates flavors that have definately been a hit around our campfires. The most unique thing about this company is that they offer these foods in bulk. This is nice as it allows one to package for themselves any portion they wish. All one needs is some zip-lock bags. Buying in bulk also saves one a substantial amount of money. Coming in 3 pound zip-lock packages, these bulk meals can cost as little as $2.00/serving. Compared to the typical $5.00 - 8.00/serving backpacking meals containing food that was grown with chemical fertilizers and sprayed with toxic insecticides, these Mary Jane bulk meals are the clear winners! For these reasons and Mary Janes other environmental efforts, this food is my top choice for lightweight travel when I don't have time for homemade.
*Due to all the uncertainties with chemicals used in packaging, I have stopped preparing my freeze dried meals in their pouches because of leaching concerns. Instead, I pour the contents in to the pan of boiling water, cover and let sit. Same concept and results as preparing in the pouch. While not as as convenient (pan needs to be washed), convenience in the contemporary sense is rarely conducive to well being in the long run. Click here for additional info on chemical leaching.
Super market foods
You'd be amazed at all the different foodstuffs you can find by cruising the aisles of your local super market. If you can think of it, you'll probably be able to find it, and if you don't see it in one store, chances are, it'll be in another. Some of these foods can be cooked as is. Or, you can purchase individual ingredients and make your own from scratch. A health foods store will also have some interesting items.
The key things to look for are dry, light and if it needs cooking, short cooking times. Cooking requires fuel and fuel equals weight. I avoid foods that require much more than three-four minutes solid boil time.
Below is a small list of foods to look for. Most of these items can be bought from bulk which eliminates wasteful packaging and is usually a fair bit cheaper.

Breakfast
instant hot cereals, cold cereals, breakfast bars, instant oatmeal, instant breakfast drinks, instant spiced cider, instant cocoa, instant coffee, instant tea or tea bags, instant milk powder, instant potatoes, instant pudding, minute rice, nuts, seeds, dried fruit, fruit wraps, jerky, salami, pepperoni, string cheese, powdered drink mixes, powdered shakes, pilot bread, condensed bread, bread sticks and wheat crackers.


Lunch
the various different energy and protein bars, granola bars, dried fruit, fruit wraps, nuts, seeds, jerky, salami, pepperoni, string cheese, packaged tuna & salmon, wheat crackers, pilot bread, condensed bread, bread sticks, large pretzels, condensed mincemeat and nut butters (peanut, almond, etc).


Dinner
jerky, salami, pepperoni, packaged tuna & salmon, string cheese, minute rice, rice mixes, dehydrated refried beans, instant potatoes, ramen noodles, noodle dinners, angel hair spaghetti, soup packages, soup mixes, dried vegetables, dried fruit, fruit wraps, wheat crackers, pilot bread, condensed bread, bread sticks, large pretzels, powdered drink mixes, instant pudding, instant cocoa, instant spiced cider and tapioca.
Another option, mentioned previously, are the instant organic foods by Mary Janes Farm. They offer many bulk food choices for the do-it-yourselfer at a fraction of the cost of traditional "backpacking" food.
Meal planning
First, you'll want to figure how many breakfasts, lunches and dinners are needed. You can usually leave out the dinner on the last day and even the lunch if you think you'll make it to the take-out by lunchtime. So, a three day trip with an AM start and early PM finish would include: 3 lunches, 2 breakfasts and 2 dinners. For examples of complete meals, see "sample meals" at the bottom of this page.
When preparing your own at home:

Make easy to prepare meals that require little cooking time. This way you can spend more time doing other things and you won't have to carry as much fuel.
Pre-measure everything so there is less preparation time at camp.
Put each different part of each meal into its own ziplock and label the contents and instructions with a permanent marker. Then put each of these into one big bag. Can't tell breakfast from dinner? Grab that permanent marker again.
Though not necessary, if you own or have access to a vacuum food sealer, use it. Not only does it take some of the bulk out, compared to using ziplocks, your food is less likely to get pulverized when packing/unpacking.

General tips:

To keep your palate and nutritional needs happy, plan for a variety of food and try to eat similarly to how you do at home. Not surprising your body with a strange diet will help keep any sudden and unexpected bowel movements at bay and your drysuit clean.
For variety, add small portions of several types of foods instead of one big helping of just two types of food. For each meal, I like to take a snack size zip lock bag full of dried fruit labeled with the quantity.
How much to take
There are a lot of variables to take into account when figuring out how much food to take. Some backpackers go by the rule of two pounds per day per person, while others argue that's too little or too much. Since everyone's appetites and requirements differ and there are no standards of how food must be prepared, this is a futile argument. Plus, one persons heavily calculated one pound of dehydrated food might produce more bulk (once reconstituted) and nutrition than two pounds of some one else's. It's all in the planning stages.
As a rough idea, with a fair bit of pre-tip prep time, I can get by quite comfortably on a total of 15-16 ounces per day on the average decent-weather 4 day trip. If it's cold and/or lots of hiking is required/desired, I'll add an ounce or two to that. For reference, I'm a medium/heavy eater and 5'-11" and 150 lbs. The following is what's involved:

no canned goods
no fresh produce
no Army MRE's
no containerized beverages
combination of home brewn concoctions and freeze dried backpacking meals
Lots of home dehydrating. By dehydrating your own fruits, you can lower the moisture content enough to cut the weight 7-8 times that of commercially dehydrated. This has little to no affect on the flavor.
For bread, I use condensed bread, pilot bread, large pretzels or bread sticks instead of bagels. High nutrient whole-wheat crackers are good substitutes too.
Dehydrating food
Besides the weight saving benefits, dehydrating your own gives you full control of your food, and can give a real feeling of accomplishment. A dehydrator can be purchased for as little as $50 (see pics below). Depending how much they are used, these can last from 1-10 years. To take advantage of fruit found on sale, as well as my own harvest at home, I gave up on these smaller and less expensive models (I went through 3) and purchased a larger Excalibur unit with temp control and timer. I also opted for stainless steel trays due to the unknowns with plastics. At $500, it was not cheap. My cupboards are always stocked with healthy and inexpensive snacks though...and when something does wear out on it, the replacement parts are readily available, inexpensive, and easy to replace. If you're ok with BPA free plastic trays, a $100 bill can be saved by going that route. If you think you'll only use a dehydrator for preparing the occasional self-support snack or meal, and are ok with plastic trays, there is nothing wrong with a $50 unit like the one in the pic below. Just make sure it has a fan. Drying on a dehydrator without may take longer than the trip it self.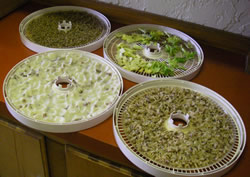 Fruit leather trays in action: lentils top left; mashed potatoes bottom left; brown rice bottom right; celery upper right; and pasta sauce with lentils below.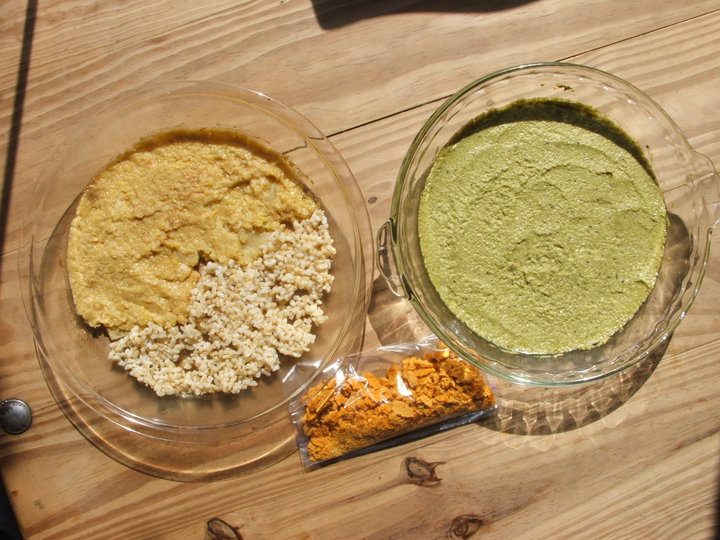 Using pie plates for dehydrating. Ready for the dehydrator: red lentil dahl w/ brown rice on left, (finished garbonzo bean soup in center zip-loc), and asparagus pesto on right.
It's also a good idea to purchase a dehydrator with fruit leather trays. Not only can you make fruit leather, you can dehydrate sauce, pesto, salsa, and small things like corn and peas without them falling through the trays. Again, due to the unknowns with plastics, I now use glass pie plates in mine (see bottom right pic). To prevent fruit from sticking, I spread a light layer of coconut oil on the plates. I use olive oil otherwise.
Additionally:

When preparing, slice all your fruit and veggies into slices less than 1/4" thick. This will speed up the drying process considerably.
To minimize strawberries from sticking to the trays, cut into quarters (or sixes if big), and place skin side down.
To speed up cooking time at camp, partially cook the sliced veggies at home prior to dehydrating.
Note how many slices are in the average apple, banana, carrot and so forth. This way you'll have a better gauge of how much to take and be able to better mimic your normal eating habits.
Emergency food pack
Each person should carry one additional non-cook food pack in case of an emergency. If there is no crisis, it'll come in handy if you have to wait for your shuttle driver or will hold you over until you get to the nearest restaurant. Ideally this should be a highly concentrated, light and high calorie food such as meal or energy bars. Bring enough for at least one full meal.
Foraging
Foraging is a great way of snacking, rounding out a meal, culturing the palate and breaking up the monotony of dried food. Salad greens, herbs, fruits, shoots, roots, flowers, seeds and nuts… perfectly good and often times quite palatable edibles abound once you learn to identify them. There are nearly always at least a couple decent varieties that can be harvested right in camp with minimal effort. And many do not require cooking. I have picked and eaten greens while setting up my shelter and, at every opportunity, eat those, berries and flowers on the go while scouting, portaging and hiking.
Not only is learning to identify edible plants fun, it is an ancient skill you can carry for life and a superb way to build a closer understanding and relationship with your surroundings.
Grown on natures terms without chemicals, the quality of this food can not be beaten. Free in cost, fun, different flavors, no carried weight and as fresh as it gets. What more could you want?
There are many guide books on the subject. A fairly recent and good one...at least for the west, is Edible & Medicinal Plants of the Rockies by Linda Kershaw. For general plant identification in the Rockies, take a look at Plants of the Rocky Mountains by Kershaw, MacKinnon and Pojar. Excellent book!
General food tips
Pack your food in a variety of bags so they can be reused at camp or on the water. Click here for an example.
Pack your lunch in a separate and accessible drybag so when lunch time comes, you don't have to unpack the main bags. I only cook at breakfast and dinner...when every thing is unpacked.
Lipton cup-o-soups and similar packets amount to very little by themselves, but make a great base for home made soups (see my Chicken and Veggie Soup recipe).
Spruce up crackers and bread by putting a spread on such as peanut butter, almond butter, etc. Do the same with dried fruit. It's a tad heavy but makes a nutritious and tasty lunch snack. These spreads can be carried in a reused 7 ounce container that cream cheeses, pestos, etc come in. Alternatively, if the spread is not too thick, one could use the bottom filling squeeze tubes that are available at most outdoor stores.
For a non-cook desert, or whenever you have a sweet tooth, try dried pineapple, cherries, apricots or plums. These are mouth-watering and healthy substitutes for candy and other products containing refined sugar.
Also, repackage any supermarket food that has excessive packaging. This eliminates bulk and saves a bit of weight.
Most super market soups (2 ¼ ounce Nile Spice, Nissin and Maruchan) need to be doubled or tripled to make one main course for one person. As a booster to these, you can add dehydrated vegetables, freeze-dried meat or minute rice. If taking freeze-dried meals, take the same thing into account.
To protect your food from rodents, insert it in one of your stuff sacks or dry bags and hang from a tree before bed time. Under the cover of darkness, these bucktoothed thieves will not hesitate to chew their way through any thing they can reach with food in it...including your shelter. I had one chew through my bivy in three seconds flat to reach a rice cake near my ear.
Sample meals
Below are samples of my typical meals to give you a starting point. Most of this is home concocted. The recipes can be found here. If not inclined to make your own, just use backpacking entrées for the main dinner course. Breakfasts can be handled the same way. Desserts can be as simple as dried fruit. Don't like tea? There's plethora of other instant or easy to prepare drinks including spiced cider, cocoa, coffee and milk, etc.
Sample 1
Breakfast: rice pudding & tea. Lunch: bar, roasted pumpkin seeds, dehydrated hummus, crackers & dried fruit. Dinner: pasta, bread sticks, tea & peachy apple crunch.
Sample 2
Breakfast: oatmeal & tea. Lunch: jerky or tuna packet, crackers, roasted nuts & dried fruit. Dinner: aspargus pesto, bread sticks, tea & cherry applesauce.
Sample 3
Breakfast: Idaho Spuds & tea. Lunch: string cheese, crackers, dehydrated edamame dip, roasted pumpkin seeds & dried fruit. Dinner: Indian Dahl with rice, camp picked greens, granola with strawberry rhubarb sauce & tea

.